Potato nachos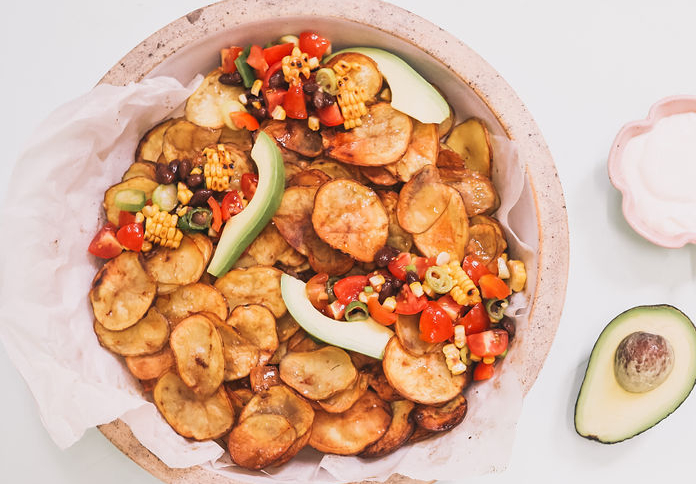 Method
(This recipe was created by Kate Flower, of Kate Flower Food, and kindly supplied by WA Potatoes)
Preheat oven to 220C/200C fan forced. Line two large baking trays with non-stick baking paper. 
Place potato slices in a large bowl. Add spices, salt and oil and toss to evenly coat the potato slices. 
Spread potato slices on trays and bake for 20-25 minutes or until golden and crisp.
Heat a frypan over medium-high heat. Add a little olive oil, then place the cob in the hot pan, leaving it to char. Turn repeatedly until the corn is cooked and some kernels are blackened. This will take about eight minutes. 
Once cool enough to handle, slice off the kernels and add to all the other salsa ingredients. Toss to evenly coat the salsa in lime juice, salt and garlic.
Once the potatoes are cooked and crispy, transfer to a large serving dish. Scatter salsa and avocado over the potatoes, finish with dollops of sour cream or yoghurt, and top with coriander.
Handy Tips
Handy Tip
01
You can replace all the spices for the potatoes with a store-bought taco mix if you like.
Back to Recipes