Stuffed baked artichokes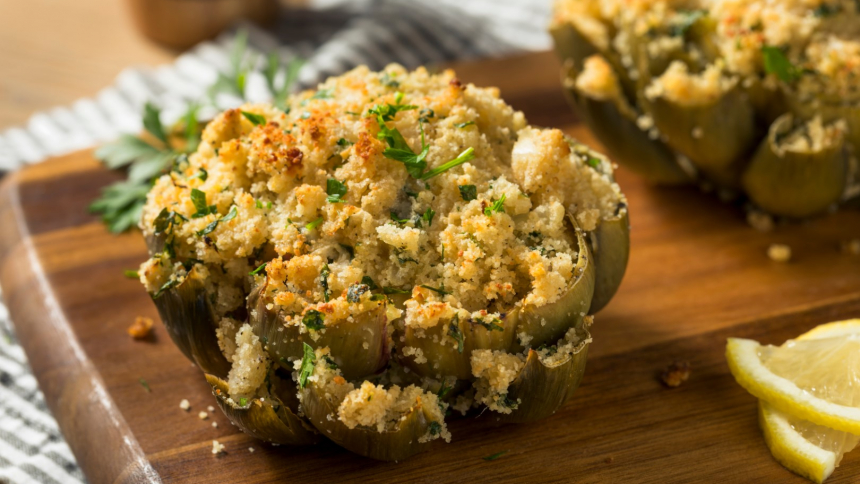 Method
Preheat oven to 190C.
First, prepare the artichokes one at a time. Cut off the stem and remove the tough outer leaves from around the base (about two layers of leaves).
Cut about 3cm from the top of the artichoke, then using kitchen scissors, cut the sharp points off all the outer leaves (about ½cm).
Turn the artichoke stem side up on a board and press down to open up the leaves.
Turn upright and gently pull open the central leaves to reveal the fuzzy 'choke'. Hollow this out with a wooden spoon.
Rub half the zested lemon over all the cut edges, then place the artichoke in a bowl of iced water with the other lemon half, squeeze. Repeat with the other three artichokes.
Combine the breadcrumbs, cheese, parsley, garlic, grated lemon zest, and olive oil to make the stuffing.
Remove each artichoke from the water and drain, then placed generous amounts of stuffing inside each leaf and in the centre when you removed the choke.
Pour 5cm of boiling water into a heavy-lidded pot or dutch oven, and add the garlic cloves and bay leaf. Gently place the artichokes, stem side down, in the water (the pot should contain them snuggly).
Cook in the oven for 1 hour 15 minutes, or until the centre of the artichoke is easily pierced with a knife.
Remove the lid from the pot and switch oven to grill function. Grill for 10 minutes or until golden.
To serve
Garnish with fresh parsley and serve with lemon wedges.
Handy Tips
Handy Tip
01
If you have never eaten a fresh artichoke, there is a special technique. Remove each outer leaf one by one, and place the inside (stuffing) down on your tongue. Holding the front of the leaf outside your lips, scrape the leaf over your bottom teeth to remove the flesh and discard the fibrous outer. Repeat until you get to the tender heart of the artichoke with stuffing, which you can eat with a knife and fork.
Back to Recipes