Warm potato & pesto chicken salad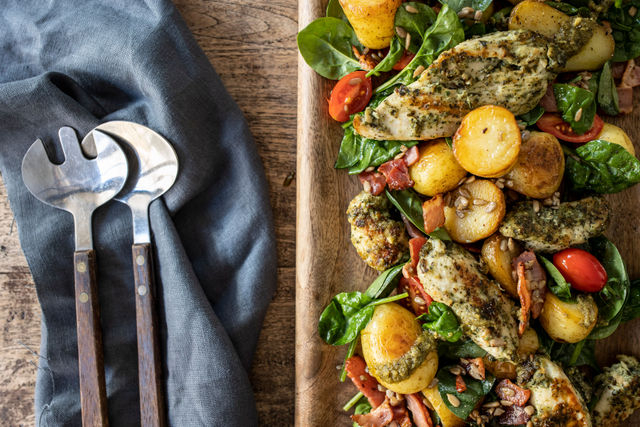 Method
(This recipe was created by Kate Flower, of Kate Flower Food, and kindly supplied by WA Potatoes)
Cut the potatoes in half and place in a saucepan of salted water. 
Bring to the boil, then turn down the heat and simmer for 8-10 minutes or until the potatoes are tender when skewered with a knife. Drain and set aside.
Meanwhile, heat a frypan and lightly oil. Add the bacon and cook, stirring, until it starts to brown and crisp. Add the sunflower seeds and toss with the bacon for a couple of minutes to toast. Remove the bacon and seeds to a large bowl with a slotted spoon, leaving the oil and bacon fat in the pan. 
Add the chicken strips to the frypan and cook on each side for about three minutes or until cooked through. Place them in the bowl with the bacon and seeds.
Leave the frypan on high heat and add the steamed potatoes, tossing for a few minutes so they crisp a little and are wrapped in the bacon and pesto flavour.
Add the potatoes to all the remaining ingredients while the bacon, potatoes and chicken are still warm, and present on a platter. 
To serve
Serve with extra store-bought pesto if you wish.
Handy Tips
Handy Tip
01
This is a fabulous recipe for easy entertaining. Double the recipe and feed a crowd with ease.
Back to Recipes