Buttermilk & almond tray cake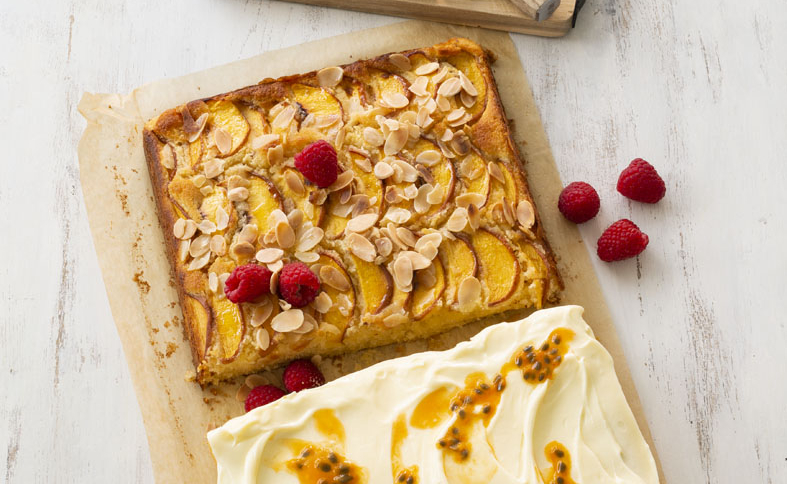 Method
(This recipe was created by Kate Flower, of Kate Flower Food.  This tray recipe cake includes buttermilk rescued from the churning process at Devoted Artisan Butter and delicious almond meal to give it body and texture. The  idea is to take the basic recipe and add your own twist. Pictured are two combinations Kate loves – a peach and almond cake and a passionfruit cheese cake.)
Preheat the oven to 180C, bake setting. Grease a 33cm x 23cm cake tin with a little butter, then line with baking paper.
Whisk flour (we love Millers Foods), almond meal, baking powder and salt together in a bowl. In a separate bowl, add the vanilla extract to the buttermilk.
Using an electric mixer, cream the butter on medium speed for 2 or 3 minutes or until pale, then, with the motor running, add the sugar in a steady stream. If the mixture is not well combined, scrape the sides of the bowl with a rubber spatula and mix for another 3 minutes.
Add the whole eggs, one at a time, and beat for 30 seconds after adding each one.
Fold in half the dry mix, then scrape the sides of the bowl and fold in half the buttermilk mixture.
Fold in the remaining flour, scraping the sides down well, then fold in the remaining buttermilk. Pour the batter into the prepared cake tin.
Bake for about 45 minutes or until the edges begin to come away from the sides of the tin. Cool in the tin for 15 minutes, then turn out onto a cooling rack covered with baking paper.
Peel the baking paper from the base of the cake then turn right side up onto another rack. Leave to cool before icing.
For the peach and almond variation, prior to cooking, lay slices of peach across the top of the cake and scatter with flaked almonds then bake.
For the passionfruit cream cheese cake, allow the cake to cool before spreading over cream cheese icing, and top with fresh passionfruit pulp.
Handy Tips
Handy Tip
01
For an apple, walnut and cinnamon variation, add sliced apples, chopped walnuts and finish with cinnamon sugar when warm from the oven.
Handy Tip
02
For dark chocolate and raspberry, top the cooled cake with dark chocolate ganache and scatter with fresh raspberries.
Handy Tip
03
If you fancy a fruit crumble cake, pop chopped fruit in between two layers of batter, then add a simple crumble mix to the top prior to cooking.
Handy Tip
04
Whichever flavours you choose, this is a crowd-sized cake that lends itself to entertaining, so invite friends over, pop on the kettle and catch up.
Back to Recipes