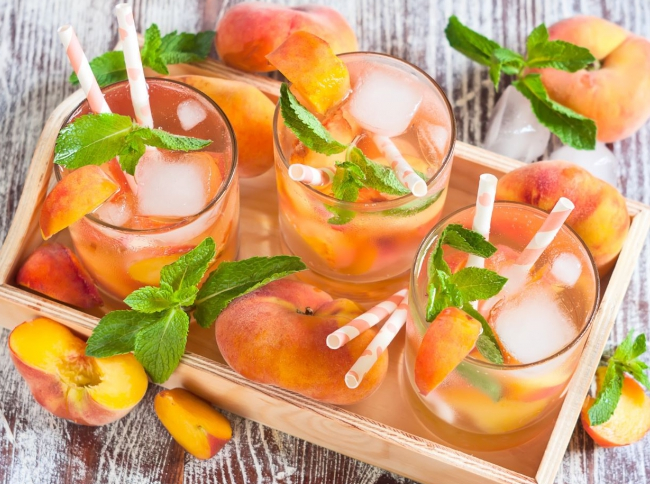 As we draw ever closer to Christmas, the stress of all that preparation can take some of the shine off what is supposed to be the most magical time of the year.
Even if you're not hosting this year, you might be getting a bit anxious about what to give those who have invited you to their home, or coming up with a present that doesn't scream "I really had no idea what to get you".
Well, sit back and put your feet back, while we raid the Buy West Eat Best Christmas cupboard for some ideas that will not only go down a treat, but will support local, too. Now that's what we call the Christmas spirit!
Make an effort (but nothing too taxing)
So, you don't have to take care of the main affair, but you still want to bring something to share? Let's start with the drinks. This summer peach sangria is utterly delightful, totally refreshing, oh, so easy and makes the most of sublime West Australian peaches. What more could you ask for?
Cheese. Is there ever enough cheese? With so many brilliant local producers, you are spoilt for choice to spread across the board. Cater for all tastes with a selection from some of our wonderful Buy West Eat Best members, including Bookara Goat Dairy's fabulous feta, Halls Family Dairy's superb Suzette, Cambray Cheese's sensational array of sheep milk cheese, Margaret River Dairy Company's classic camembert, or a slice of Harvey Cheese Blue OMG or St Duke's Red.  If you need some tips on how to bring it all together with fresh fruit and other treats, so that it looks as good as it tastes, check out our guide to the perfect grazing board.
Want to give something that lasts a tad longer than Christmas dinner? Try this easy beetroot and balsamic relish – it's only got a handful of ingredients and takes about half an hour to cook. Of course, you can eat it with the Christmas ham, but put it in a lovely (sterilised) jar, tie a pretty bow around it, and you've got a sweet gift for your hosts to enjoy with any leftovers for a good week or more.
We're also very partial to shortbread at Christmas. There are so many quick and easy recipes on the internet, but if you want to take this beautiful biscuit up a notch we heartily recommend the superb alfajores Peruano from UMA. The soft cornflour shortbread is filled with a caramel to die for (you'll be licking your lips long after the last bite). Best of all, when they inevitably ask you for the recipe, you can share it with the click of your phone.
Easy pickings (from our members)
Of course, we know how pressed you are for time, so if there are no free days for baking or cooking in the lead-up to the big day, don't panic. You can still give the gift of local produce in so many ways.
How about ordering a box of divine produce from The Organic Collective, Dirty Clean Food, or Matters of Taste to arrive just before Christmas? Packed with the best from growers around the state, these boxes will make friends and family think all their Christmases have come at once as they open up the freshest of surprises.
You could also put together a hamper of your own, taking your pick from the producers and providores we are proud to call Buy West Eat Best members. Know someone who likes a little zing with their food? Assemble a basket of spicy sauces, chutneys or curry pastes from Turban Chopsticks, Bluey Zharzov's Hotsauce, Chunky Sambal and The Devil's Tears and keep their mouths watering (in a good way) all year long.
Or mix and match with a variety of delights that will last as long as the recipients can resist temptation. Think jars of Fini Olives, Black Truffle Aioli from Great Southern Truffles, some Little Eeden Farm's unprocessed bush honey, or a beautiful bottle of olive oil from Great Southern Groves or Jingilli EVOO.
There are so many variations, the only limit is your imagination (and, of course, your budget). If you want to find an array of local flavours all in one place, pop into The Herdsman or Farmer Jack's for some great ideas – though we suggest asking staff for help as there is so much to choose from.
And, of course, foodies in the family will love eating out. You can always treat them to a voucher at one of our member restaurants. From sumptuous dining experiences down south, such as Amelia Park Restaurant or Taylor Street Quarters, to city sensations like the aforementioned UMA, the Asian delights of Miss Chow's, beachside bliss at Odyssea, and long lunches in the valley at Sandalford Restaurant & Bar, there are so many ways to say "have a meal on me".
If the budget only stretches to a bottle of fine wine, we are certain they will be very happy with a drop from Peel's delightful Drakesbrook Wines, Great Southern's Rockcliffe or Margaret River's Voyager Estate.
Whatever way you choose to celebrate this Christmas, do it with a decidedly local flavour. Western Australia's finest will thank you for it.