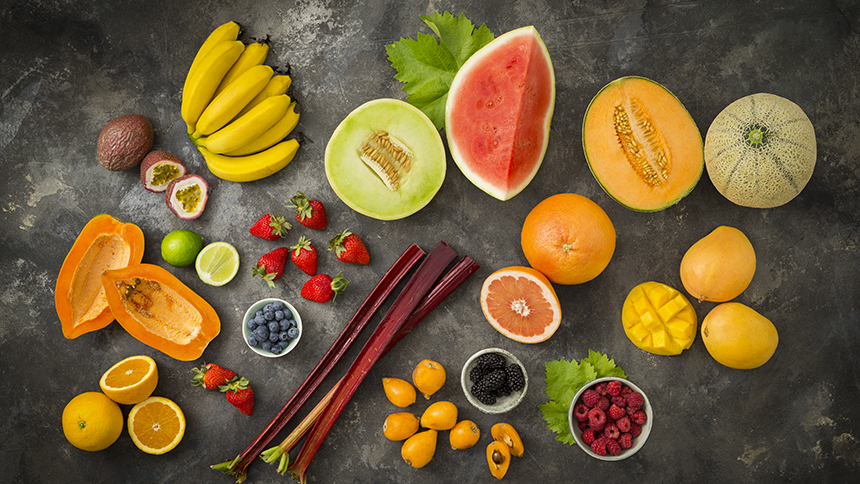 Sherbert was right: Summer love is like no other love. The Australian pop icons might have been singing about matters of the heart, but it could easily apply to the season's superb produce. Take a bite out of summer.
Western Australia enjoys long summers, with the start of autumn still feeling like it belongs in the warmer season. While the days can get a little too hot for comfort, those summer nights are just perfect for entertaining. Barbecue season is in full swing, and curries and casseroles have made way for marinated meat and super salads out on the deck.
Our growing conditions enable plenty of crossover with spring produce – beautiful berries are still in abundance, for example – so we are a little bit spoilt. We encourage you to seek out these summer hits and fall in love with local produce all over again.
Avocado
The State boasts an abundance of the creamy Hass – it makes up more than 90 percent of the commercial production – but you can also find other local varieties, including Reed, Fuerte and the oddly named Bacon. This nutrient-rich fruit is grown from Albany in the south up to Carnarvon in the north, with the beautiful Southern Forests region one of the major producers. An excellent source of vitamin E, soluble fibre, potassium and fibre, avocadoes are believed to help lower cholesterol and protect against heart disease. They are also delicious and versatile. Simply eat them smeared on toast (try Eco Bread's sourdough or dark rye), slice into a delicious salad, or make a spicy guacamole or salsa. Avocado will also turn a morning omelette into a proper meal.
Banana
We've said it before but this fruit really is a life saver – you'll never go hungry with a banana in your bag. It comes encased in its own protective skin and will provide an instant, healthy pick-me-up when you're on the go. And there is no reason to eat anything but local with superb bananas coming out of Carnarvon, from the likes of the award-winning Sweeter Banana, and as far north as Kununurra. The mellow yellow is also a cook's dream ingredient, with so many ways to incorporate them into your menus if you've bought one bunch too many. Slice a bunch and freeze them (in ziplock bags) to add to smoothies each morning. Shake up your traditional salads with banana carpaccio, fennel and grapefruit or the super-easy hot and easy banana salad. Or bake some banana bread and take care of lunch boxes the next day. Failing that, just pop whole bananas into school and work bags for easy pickings.
Fig
This teardrop-shaped fruit doesn't look like it will bear much on the tree but figs pack a punch, both in flavour and nutrition. Rich in copper and vitamin B6, fresh figs are also low in calories, so you get a sweet treat without the guilt factor. Koorian Farming grows figs (as well as olives and pomegranates) in Gingin, where they start to pop up towards the end of summer and keep on giving into autumn. Many fig lovers will simply halve them and eat them straight from the casing and we can understand why. But also pair beautifully with cheese, such as this fig and honey-baked camembert, or spiced couscous with haloumi and figs. If you're feeling adventurous, try your hand at this overnight fig and vanilla jam – it certainly takes breakfast up a notch.
Mango
There is nothing quite like that sweet, smooth taste of mango. Given its high vitamin C content, it's fitting this deliciously sweet, smooth fruit is most associated with summer. Thanks to our State's growing conditions, you will see varieties from the Kimberley as early as September, as the growing season wends its way south to the Gascoyne, and growers such as Bumbak & Sons, in summer and closer to Perth at Gingin. Officially a drupe, like its fellow stonefruit, mangoes have a central stone enclosing a single seed surrounded by a fleshy edible. Unlike the others mentioned below, its skin is too tough to enjoy but what it encases is divine. Add it to smoothies, make a mango smoothie bowl, try it with ceviche, or simply devour it as is – you'll be coming back for more. (Unlike lots of other fruit, it is high in sugar, though, so don't get too carried away.)
Stonefruit
For some of us, nothing says summer more than stonefruit. Like the weightier mango, the arrival of all those sweetly scented apricots, peaches, plums and nectarines really is like Christmas come early. The best way to eat them is to simply wash under water and bite into and around their small stones, juice dripping down your fingers. They really lift a lunchbox (or work lunch) on their own but also add a bit of zing to salads – slice a yellow nectarine and add to green leaves, leftover roast chicken, cherry tomatoes and cucumber drizzled with olive oil and a little goat's cheese, and you'll see what we mean. They also add something special to desserts such as this peach and almond topped cake or the plum and orange polenta cake. If you're having a party, we recommend this refreshing summer peach sangria. The name says it all, right?
Tomato
Often mistaken for a vegetable, perhaps because of the way it is incorporated into our diets, the tomato is part of the nightshade family of fruits (which also includes eggplants and capsicum). Call it what you will, there are seemingly endless varieties of these tasty treats – red, yellow, orange, large, small, round, oval – grown by West Australians such as Mitri Hydroponics and Bogdanich Farms. And all delicious. High in lycopene, which gives them their red colour, and other carotenoids, they are also believed to reduce the risk of heart disease and improve eye health.  Slice them for sandwiches or bruschetta toppings, pop whole cherry or grape tomatoes into salads, or try some of our fabulous tomato recipes, such as this simple caprese salad or fattoush salad, or get a little fancy with lobster pasta with cherry tomatoes. There are so many ways to lift a meal with tomatoes.
Watermelon
Last, but by no means least comes perhaps the most refreshing summer fruit of all. Grown in the Kimberley by family farmers such as Acadia Farms all the way down to outer Perth by A & S Canzirri & Sons, watermelon doesn't need much adornment. Rich in antioxidants, vitamins A and C, they also have a high water content, which helps keep you hydrated in the heat. Sliced into hand-sized pieces, these sweet and juicy are gobbled down to the white flesh in no time. They also pair beautifully with rockmelon for a cool after-school snack on a hot day. If you're entertaining, add some wow factor to the table with this watermelon, goat's cheese and smoked tomato salad or seedless watermelon salad – they both look fabulous but really take no time at all to prepare. Win, win!
More information
For the full list of what's at its best in summer, see our seasonal guide. Follow us on socials for great recipes, produce tips and much more.
Summer Seasonal Guide