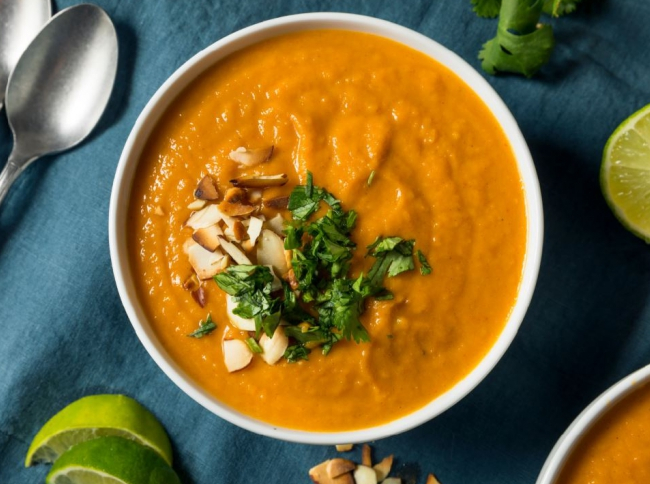 Starting to feel a chill in the air? Reaching for an extra blanket at night or while you sit on the couch watching TV? It's time to turn up the heat in the kitchen with these delicious winter recipes.
And that doesn't mean spicy (though a bit of chilli doesn't go astray, either). We're thinking comforting casseroles, satisfying soups and perfect pies. All featuring the freshest local ingredients, of course.
Soup is a sure way to warm you from the inside out. A simple pumpkin or leek and potato soup will always win hearts, but why not step outside your comfort zone and try something a little special. This easy cauliflower soup is given a rich finish with a dash of truffle oil from Great Southern Truffles – a delicate way to introduce you to the charms of the fabulous fungi. And vegetarians won't be the only ones to fall for the Italian kale and white bean soup. Packed with vegies, it's a meal in its own right.
Hearty casseroles are always welcome this time of year. Serve braised cheeks in red wine with mashed potato or sweet potato and whip up some rice or couscous to accompany this tasty chicken tagine with olives and lemon.
And while there's always good reason to cook a roast, something about the crisper days makes the smell of a joint cooking all the richer. Step up your roasting game with an orange and rosemary chicken or add an extra special sauce to a traditional lamb roast.
Winter isn't just about meat lovers, though. The ubiquitous cauliflower cheese is popular for good reason and our easy potato, cheddar and rosemary bake will have you reaching for seconds. But we also recommend trying this spin on a traditional shepherd's pie, a sweet potato gem laden with marvellous mushrooms. We're also rather partial to the kale and goat's cheese frittata, which make great leftovers for lunch the next day (assuming there are any).
And pasta. Who can forget pasta? If the weather has kept you indoors why not take the extra time to make your own? This scrumptious gnocchi in browned butter and sage sauce really is worth the effort (and you'll have the pleasure of announcing you made it from scratch). If you're in a hurry after work, however, that's no reason to deny yourself a treat – you can whip up black truffle pasta in a jiffy and it tastes divine.
There is plenty for those who still enjoy meals on the lighter side, too. This fennel and orange salad is delicious on its own or as a side dish, while the mandarin, blue cheese and almond salad also brings out the best of WA's seasonal citrus.
And lest you think winter is all about the savoury, we haven't forgotten the sweet tooths among you. Stew some seasonal fruit, such as this rhubarb delight, or discover the joy of baked quince. Served with yoghurt or fresh cream, either is bound to impress. Pear crumble (or crumble made with any seasonal fruit) is a favourite in the cooler months for good reason, as is apple pie. For something simple but elegant, try this apple tea cake and serve with delicious spiced orange tea for an added dose of warmth.
If you want to tempt the kids into the kitchen, ask them to help you make apple and cinnamon donuts – they will love the taste of them warm from the oven.
And while we're on the subject of indulgence, adults might also like to treat themselves with a glass of red with their meal. Easy done. From Drakesbrook Wines in Waroona to Rockcliffe in the Great Southern and Voyager Estate in Margaret River, it's just another way in which we're spoilt for choice in WA.