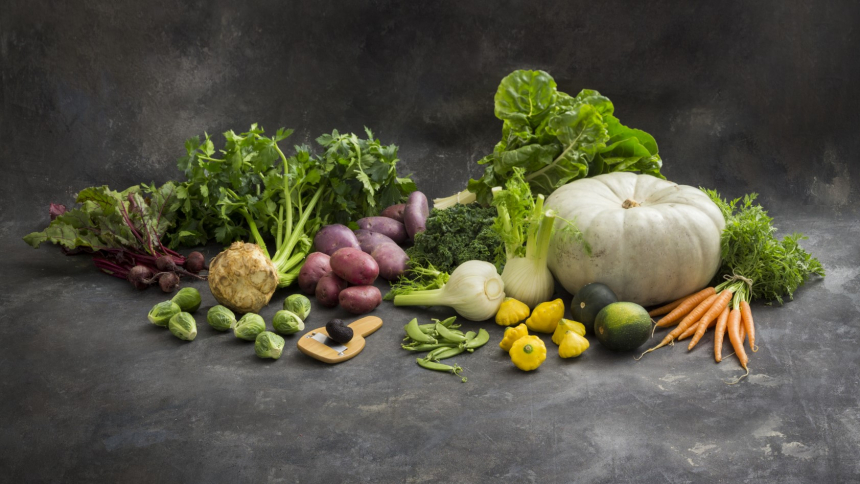 If you're over the chill already and can't bear the thought of any more weeks of cold weather, don't despair. There is plenty of inspiration for heartwarming dishes in Western Australia's winter produce.
We tend to think of spring and summer as the time when fresh fruit and vegetables abound, but there is so much delicious fresh produce that comes into its own in winter. Of course, being grown in our vast state means some fruit and vegetables are available for much longer, so we can count ourselves very lucky indeed.
Broccoli & broccolini
Once a vegetable boiled to a grey sludge, all the goodness stripped from its green roots, broccoli is now a welcome addition to so many dishes. Whether steamed, baked or flash fried, ensure you don't overcook it. A cross between broccoli and gai lan (a Chinese broccoli), broccolini is also widely available in winter and is a little sweeter than its relative and higher in vitamin A. We love either of them in stir fries but they are also wonderful in salads, such as this broccolini and bean delight, and warmer dishes such as this vegetable curry. When you're chopping up broccoli, don't throw away the cores. Reserve in the fridge to use in soup.  With local producers such as Trodan Produce growing this vibrant brassica, you'll find them wherever you shop. Or order a fabulous fresh produce box from Glavovich Produce or Matters of Taste and add broccoli to the basket.
Cabbage
Another vegetable that is often overlooked, cabbage is a good one to incorporate in your diet, as it helps encourage healthy gut bacteria that protect your immune system. Bogdanich Farms is just one of the local producers growing this versatile crop, which comes in pretty purples and leafy green, so it looks lovely on a plate, too. Serve it sliced raw as part of a coleslaw or Vietnamese or Thai salad; roast it in the oven, cook it on the barbecue or incorporate in a soup.  If you're fond of fermented cabbage, check out Perth Kimchi in Myaree.
Capsicum
These brightly coloured vegetables, also called bell peppers, come in red, green and yellow, and occasionally orange. The red ones have the highest dose of minerals and vitamins, particularly vitamin C. Grown by local producers such as Acadia Farms and Loveapple, they are all delicious eaten raw or cooked and can be added to so many dishes. At this time of year, roasting them in the oven is always a good idea. Cut them in half and fill them with whatever you desire (spicy minced meat or mixed vegies), slice them thinly and serve on quality bread with goat's cheese, or put them in soups, such as this bowl of easy roasted red capsicum goodness.
Fennel
The oddly shaped vegetable is very versatile once you get familiar with cooking it. Part of the carrot family (though it's not a root vegetable), fennel can be eaten in a similar way – raw, roasted, sautééd, turned into soups or sauces, or even pickled (try Epicurean Foodie's pickled fennel and orange). Fennel's aromatic anise flavour really amps up a dish. This simple fennel and orange salad is a great side dish, or if you want to do something for a special occasion, whip up these lobster tacos with fennel remoulade. It's also low in calories but packed with potassium, vitamin C, fibre and other goodies – and you can use the whole vegetable. The light, feathery fronds tops are delicious on top of salads or soups.
Lemons & limes
One is usually yellow and oval with a thicker skin, while the other is smaller, round and green, but lemons and limes are often used interchangeably as the citrus fruit have similar flavours. Lemons have a lot more vitamin C but both have antioxidant and anti-inflammatory properties. Used in sweet and savoury dishes, they add balance in dishes such as this chicken tagine or spatchcock garlic lemon chicken, or Thai sweet potato soup, but can also be the hero ingredient, as in this lemon yoghurt cake. Look carefully at the labels and fruit stickers when buying so you know you're supporting WA Citrus.
Lettuce
Remember when iceberg lettuce was about the only one you could buy? Now we're blessed with a bunch of leafy delights to choose from, whether buying them whole or in gourmet packs from the likes of Greenfields Food and The Loose Leaf Lettuce Company. While the iceberg is still the number one choice for shoppers, you can also buy cos, butter lettuce and even red or purple varieties. They add crunch to sandwiches and texture to salads, such as this delicious grilled potato, cucumber, mint and cos salad. They are also a good source of vitamin A (for healthy skin, bones and eyes), as well as folate.
Mandarins & oranges
One of the joys of winter is the abundance of oranges and mandarins. Sweet, juicy and very portable, they are delicious simply peeled and eaten as they come. Moora Citrus grows navels, Midknights (a type of valencia orange) and mandarins in Bindoon and has some fine recipes to showcase the quality of the citrus, such as the warming spiced orange tea and scrumptious dairy-free coconut crepes with orange sauce (try to stop at one helping). If you love freshly squeezed orange juice, you'll love Michael Brothers' Traditional Orange, made in their micro-juicery from local growers. And check out Harvey Fresh's range of juices – the Western Australian company has been growing oranges for almost 100 years.
Onions
This humble but essential ingredient is the starting point for so many kitchen staples, including curries, pastas and soups. And with growers such as Patane Produce and LJM Produce keeping us in good supply, there's no excuse not to have a few in the pantry.  The more pungent brown onion is better for soups (such as this heartwarming cauliflower soup) and other cooked dishes, while the white or red onions are better choices for salads, especially the red, which is sweeter and is also high in iron, calcium and vitamin C. Onions are also great pickled or in pastes, chutneys and sambals, such as Chunky Sambal's Sambal Bawang. And if you're feeling a little naughty, why not treat yourself to a battered onion or two.
Potatoes
Just like onions, this nightshade can be used in so many ways — and, lucky for us, potatoes grow year round in WA.  WA Potatoes represents the state's growers, which produce about 30 different varieties, from the creamy white Nadine and red-skinned Pontiac to the rustic Kipfler and popular Royal Blue and Ruby Lou potatoes. Beta Spuds is one of the biggest growers, while Supa Spud is one of the state's largest wholesalers, and you're spoilt for choice wherever you shop. This potato, cheddar and rosemary bake is a great winter side dish or swap your meat and salsa nachos for potato nachos. We're also partial to this warm potato & pesto chicken salad. And is there anything quite like hot chips to make you happy? Try WA Chip's crinkle cuts or shoestrings at home.
Rhubarb
This vibrant perennial looks like purple celery but the two vegetables aren't related. Celery is party of the parsnip family, while rhubarb belongs to the buckwheat gang. Regarded as something of a superfood these days, it's full of lutein, which is good for your skin and eyes, is high in antioxidants, and also contains vitamin K and calcium.  Technically a vegetable, its long pink stalks are treated like fruit, which is why you will often see it in dessert, usually paired with apples or pears, in pies or crumbles. It is also delicious stewed, such as this combination with star anise and vanilla, and holds its own roasted.  If you're over the chill already and can't bear the thought of any more weeks of cold weather, don't despair. There is plenty of inspiration for heartwarming dishes in Western Australia's winter produce.
Have we whet your appetite? There are many more winter wonders to discover. See our full list in our seasonal guide. Follow us on socials for great recipes, produce tips and much more.